My Blog
Posts for tag: gum disease
By P Steven Wainess DDS
November 10, 2021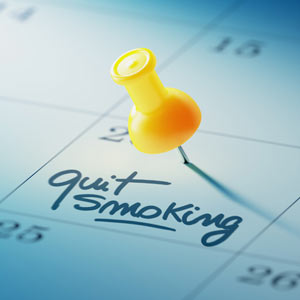 Quitting smoking is hard. The love affair between your brain and nicotine chains the habit to your daily life. But it's still worth the effort to quit to save your health from disease—including those that impact your teeth and gums. And, there's no time better to launch your "kick the habit" project than the American Cancer Society's Great American Smokeout day this November 18.
As to smoking's impact on your teeth and gums: Two-thirds of America's 32 million smokers contend with gum disease. A smoker's risk for tooth decay is also higher, as well as their prospects for implant failure.
So, why is smoking hazardous to your oral health?
Primarily, nicotine constricts oral blood vessels, which in turn reduces the nutrients and antibodies reaching the teeth and gums. Your mouth thus struggles to fight bacteria that cause tooth decay or gum disease.
Inadequate blood circulation can also hide signs of gum disease like swollen, reddened or bleeding gums. Instead, a smoker's gums may look deceivingly healthy, although you may have a gum infection that could be well advanced when it's finally diagnosed.
Gum or bone grafting also depends on good blood flow, or the grafts may not fully regenerate new tissue. The situation's similar for an implant: Its titanium post needs bone to grow and adhere to its surface to acquire sufficient strength and stability. But slow wound healing due to poor circulation can interfere with this process and cause an implant to fail.
For your mouth's sake, as well as the rest of your body, quitting smoking could help you avoid these problems. But as an ingrained, addictive habit, your body needs to "unlearn" it to stop it. Here are some ideas to help make that process easier.
Nicotine Replacement Therapy. Under your doctor's guidance, you can take medications that deliver nicotine to the body without smoking, and gradually reduce its concentration. This approach can be costly, however, and cause unpleasant side effects.
Brand fading. With this technique, you continuously switch to cigarette brands with less nicotine. This gradually acclimates your body to lower concentrations of the chemical, and eventually wean off it entirely. Here's an online site listing nicotine strength by brand.
Don't do it alone. Quitting smoking doesn't need to be a solo act. Developing relationships with those who don't smoke or who are also quitting can make it easier. One way is to attend a smoking cessation group for support and encouragement from others who're also trying to quit.
Above all, speak with your doctor or dentist to learn more about what you can do to stop smoking. It can be difficult, but the rewards—especially for your oral health—are well worth it.
If you would like more information about smoking and oral health, please contact us or schedule a consultation. To learn more, read the Dear Doctor magazine article "Strategies to Stop Smoking."
By P Steven Wainess DDS
March 09, 2020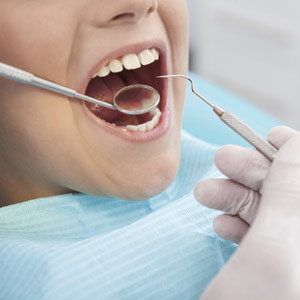 Your gums' primary role is to protect your teeth and keep them firmly in place. But periodontal (gum) disease can damage your gums to such an extent you could ultimately lose your teeth.
Gum disease is a progressive infection caused by bacterial plaque built up on tooth surfaces from poor oral hygiene. The initial infection triggers inflammation, a defensive response of the body characterized by swelling, redness and bleeding of the gums. An initial form of the disease known as gingivitis occurs in most people after just a few days without brushing or flossing.
Resuming hygienic activities to remove daily plaque, along with regular dental cleanings, may be enough to stop gingivitis and restore healthy gums. If the disease is allowed to advance, however, the infected gum tissues will begin to detach from the teeth, turning the slight normal gaps between teeth and gums into wider voids known as periodontal pockets that fill with bacteria leading to infection. Your hygiene efforts will not be enough to cope with this advanced form of periodontal disease.
At this point professional techniques are required to adequately remove plaque and calculus (hardened plaque deposits), depending on the depth and location of the periodontal pockets. The most basic of these is scaling using specialized hand instruments or ultrasonic equipment to remove plaque and calculus in pockets at or just below the gum line. If plaque and calculus have extended to the roots we may then need to employ root planing, in which we "shave" offending material from root surfaces. In some cases this may require accessing the area surgically beneath the gum tissue.
As plaque removal progresses, inflammation will begin to subside and the gum tissues heal. If, however, swelling, bleeding or pus formation persists, this may indicate bacterial levels remain too high. To decrease these levels we may need to administer antibiotics, or through mouthrinses containing chlorhexidine.
Once under control, it's crucial from then on for you to maintain a strict daily regimen of brushing and flossing to keep plaque from building up on tooth surfaces. You'll also need to visit us regularly (two or more times a year) for professional cleaning and checkups. Keeping a close eye will help prevent a reoccurrence of this serious disease and prolong the life of your teeth.
If you would like more information on treating periodontal (gum) disease, please contact us or schedule an appointment for a consultation. You can also learn more about this topic by reading the Dear Doctor magazine article "Treating Difficult Areas of Periodontal Disease."
By P Steven Wainess DDS
June 18, 2018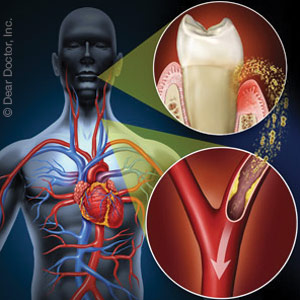 If you have periodontal (gum) disease, you probably already know you're in danger of eventual tooth and bone loss if the infection isn't brought under control. But if you also have diabetes, the effects from gum disease could extend well beyond your mouth.
Gum disease is a bacterial infection caused by plaque, a film of food remnant that builds up on tooth surfaces mainly due to poor oral hygiene. As the infection grows, your body's immune system responds by flooding your gum tissues with antibodies to fight it, resulting in inflammation. As the inflammation persists, though, it damages the gum and underlying bone tissue, which in turn leads to gum and bone loss from the teeth.
Diabetes also causes an inflammatory response within the body. The disease develops either as a result of the body's decreased ability to produce insulin to balance the glucose (sugar) levels in the bloodstream (Type 1) or the body develops a resistance to insulin's effects (Type 2). As a result diabetics experience abnormally high blood glucose levels, a condition called hyperglycemia. This triggers chronic inflammation that can lead to inhibited wound healing, increased risk of heart, kidney or eye disease, coma or death.
Gum disease can worsen diabetic inflammation, and vice versa. The effects of the oral infection add to the body's already overloaded response to diabetes. In turn, the immune system is already compromised due to diabetes, which can then increase the severity of the gum disease.
Research and experience, though, have found that pursuing treatment and disease management for either condition has a positive effect on managing the other. Treating gum disease through plaque removal, antibiotic therapy, surgery (if needed) and renewed oral hygiene will diminish the oral infection and reduce the body's immune response. Caring for diabetes through medication, diet, exercise and lifestyle changes like quitting smoking will in turn contribute to a quicker healing process for infected gum tissues.
Treating gum disease when you have diabetes calls for a coordinated approach on both fronts. By caring for both conditions you'll have a more positive effect on your overall health.
If you would like more information on the relationship between diabetes and gum disease, please contact us to schedule an appointment for a consultation.